Judge Not, lest ye be judged!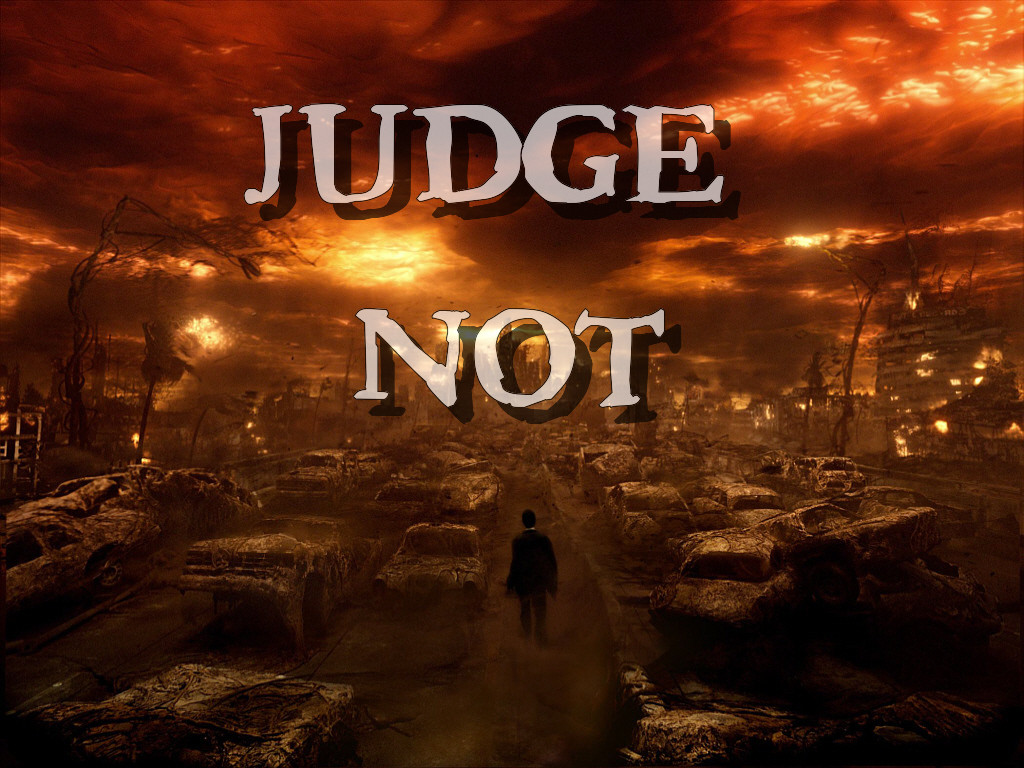 Watch our video on Rumble.com/BibleProphecy
When Jesus said, Judge not, in Matthew 7, He wasn't making a blanket statement, He was saying don't be a hypocrite.
Matthew 7:5 You hypocrite, first cast out the beam out of your own eye; and then shall you see clearly to cast out the mote out of your brother's eye.
First, clean up yourself and your life, then talk to your brother about his.
I've been hearing things like, "judge not",  and, "you don't have to do anything for salvation", etcetera, a lot, and I hope beyond hope that no one in my sphere of influence will fall for the lie that we shouldn't "do anything" in regard to salvation.
Paul said, in 1 Corinthians 5:12 ... Do you not judge those who are inside?  He's speaking of those inside the church, those who profess Christ.
He also said, in Ephesians 5:11 And have no fellowship with the unfruitful works of darkness, but rather reprove them.
The word, reprove, is a transitive verb, meaning to express disapproval to (someone); criticize or admonish. To express disapproval about (something).To convince...
The word, admonish, is another transitive verb meaning to counsel (another) against something to be avoided or warn (that something is dangerous). To urge or exhort (someone to do something). To remind (someone) of something forgotten or disregarded, as an obligation or a responsibility.
Take a look at a few of the times that we're told to reprove, admonish and rebuke those who claim to be Christians but are living in willful sin...
Romans 15:14 And I myself also am persuaded of you, my brethren, that ye also are full of goodness, filled with all knowledge, able also to admonish one another.
Titus 3:10 Reject a divisive man after the first and second admonition, knowing that such a person is warped and sinning, being self-condemned.
Proverbs 27:5 Open rebuke is better than secret love.
The word, rebuke, is also a transitive verb meaning to criticize someone sharply; reprimand. Or, admonish.To express sharp criticism regarding (an act, for example). To check or repress...
1 Timothy 5:20, Them that sin rebuke before all, that others also may fear.
2 Timothy 4:2 Preach the word; be instant in season, out of season; reprove, rebuke, exhort with all long suffering and doctrine.
Titus 2:15 These things speak, and exhort, and rebuke with all authority. Let no man despise thee.
Why do we exhort and rebuke others? In love, of course, to help them make it to the kingdom of God!
1 Corinthians 6:9 Do you not know that the unrighteous will not inherit the kingdom of God? Do not be deceived. Neither fornicators, nor idolaters, nor adulterers, nor homosexuals, nor sodomites, nor thieves, nor covetous, nor drunkards, nor revilers, nor extortioners will inherit the kingdom of God.
God tells us that people doing such things will not be saved, and that we should not grow weary in doing good, but to avoid those who won't stop sinning, and admonish them in love...
Romans 16:17 Now I beseech you, brethren, mark them which cause divisions and offences contrary to the doctrine which ye have learned; and avoid them.
2 Thessalonians 3:13 But as for you, brethren, do not grow weary in doing good. And if anyone does not obey our word in this epistle, note that person and do not keep company with him, that he may be ashamed. Yet do not count him as an enemy, but admonish him as a brother.
This is the days that we live in, right now: 2 Timothy 3:1 This know also, that in the last days perilous times shall come. For men shall be lovers of their own selves, covetous, boasters, proud, blasphemers, disobedient to parents, unthankful, unholy, Without natural affection, trucebreakers, false accusers, without self control, fierce, despisers of those that are good, traitors, rash, high minded, lovers of pleasures more than lovers of God; Having a form of godliness, but denying the power thereof: from such turn away.
If we claim to love Jesus, we absolutely must cease from sin!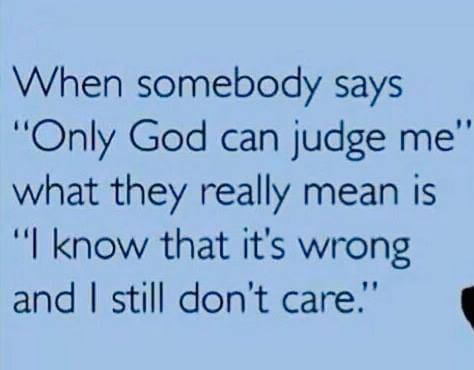 2 Timothy 2:19 Let every one that nameth the name of Christ depart from iniquity.
The word, iniquity, is a noun which means: Gross immorality or injustice; wickedness. A grossly immoral act; a sin...
So in order to love one another, we should warn each other, and judge each other, not to accuse, but to rebuke and admonish one another to stay on the path to salvation, to save their souls!
Philippians 2:12 Wherefore, my beloved, as ye have always obeyed, not as in my presence only, but now much more in my absence, work out your own salvation with fear and trembling.
2 Peter 1:10 Wherefore the rather, brethren, give diligence to make your calling and election sure: for if ye do these things, ye shall never fall:
Paul and Peter both tell us to be diligent and work out our salvation in the fear of the Lord!
Solomon told us in Proverbs 9:10 The fear of the LORD is the beginning of wisdom: and the knowledge of the holy is understanding.
We should have a GREAT RESPECT for the Lord!
We should love the Lord our God, and secondly, we love others as ourself!
Matthew 22:36 Master, which is the great commandment in the law? Jesus said unto him, Thou shalt love the Lord thy God with all thy heart, and with all thy soul, and with all thy mind. This is the first and great commandment . And the second is like unto it, Thou shalt love thy neighbour as thyself.
Loving our neighbor as ourself is warning them, admonishing them, and loving them enough to, yes,  judge them, and to help them!
My final question to you is; If the Bible doesn't say something in one place, but another place speaks of the same topic and says something additional that's not in the first passage, what should we do with that additional information?
Do we discount the passage that has more information thereby "taking away" from it by quoting the passage that doesn't have that information and say the Bible, "doesn't say", something because in the one place it doesn't say it?
Or, do we add to the passage that has less information with the passage that has more information and thereby "adding to" the information we have from the one to give us a more complete knowledge of what it means?
The answer, when asked in this way, is obvious isn't it?
If we are a Christian, we must believe the whole Bible! And we obey the Lord!
When somebody says, "Only God can judge me", what they really mean is, "I know it's wrong and I still don't care."
It's these people who we rebuke and exhort, avoid and have no part with, if they won't stop disobeying the Lord, and sinning!
John 7:24 Do not judge according to appearance, but judge with righteous judgment.
So, do we judge? Yes. In love and fear of the Lord, to help them like a brother. Not to make ourselves look better, but to help those we love to BE better.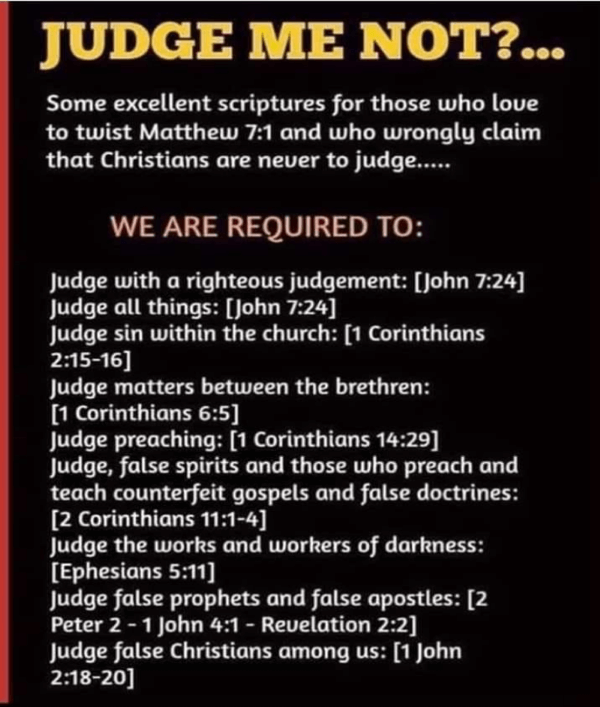 See this page: The Bible doesn't say that!
More info here: How should a Christian live his or her life?