Never Trust Your Own Heart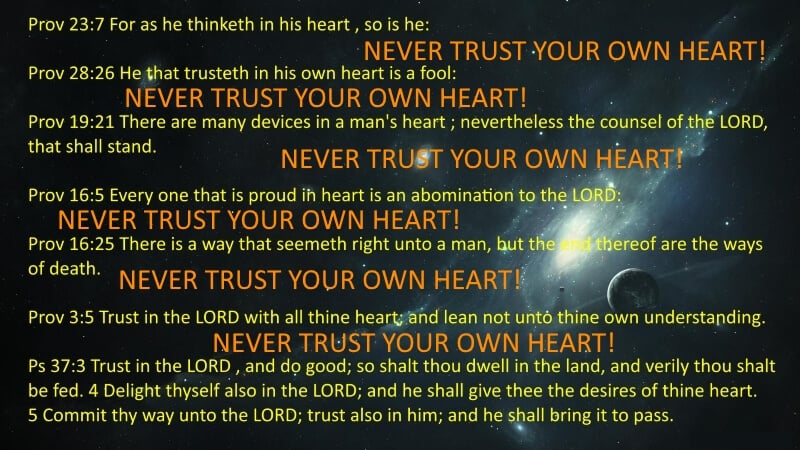 The Bible tells us explicitly to
never, ever trust in your own heart

.

Prov 23:7 For as he thinketh in his heart, so is he:

Prov 28:26 He that trusteth in his own heart is a fool:

Prov 19:21 There are many devices in a man's heart; nevertheless the counsel of the LORD, that shall stand.

Prov 16:5 Every one that is proud in heart is an abomination to the LORD:

Prov 16:25 There is a way that seemeth right unto a man, but the end thereof are the ways of death.

Prov 3:5 Trust in the LORD with all thine heart; and lean not unto thine own understanding.

Ps 37:3 Trust in the LORD, and do good; so shalt thou dwell in the land, and verily thou shalt be fed. 4 Delight thyself also in the LORD; and he shall give thee the desires of thine heart. 5 Commit thy way unto the LORD; trust also in him; and he shall bring it to pass.

When we trust in our feelings and our own heart, we stray from the Lord. No matter how good it feels , it is not where we should put our trust! Only ever trust the Lord and do not trust how it feels!

Jer 17:9 The heart is deceitful above all things, and desperately wicked: who can know it?

People mistake their own feelings for the Holy Spirit all the time. Do not make this mistake!

NEVER, EVER TRUST YOUR OWN HEART!