Does God need perfection for Him to use us for His work and His glory?

A point I like to make when thinking of this, is that people tend to bend the scriptures to suit their own desires, or bend the scriptures because they feel inadequate.
When Paul tells us what a man desiring to be a leader in the church (overseer) should be like, he's not creating a new standard, or a higher standard, he's simply pointing out that that man should be a mature Christian who is obedient and following Christ as ALL OF US are to do.
People like to say that this means a leader should be held to a higher standard, but this is incorrect.
He simply means that an immature Christian should not be a leader in the church (not a novice).
He does not mean that this man has to be perfect, or that "regular" Christians should not be a mature Christian like this. The standard is the same for all Christians.
It is not a "higher standard", it's the same standard for all, but expected of mature Christians, and should be the behavior of a leader in the body of Christ.
1 Timothy 3:1 This is a true saying, If a man desire the office of a bishop, he desireth a good work.  2 A bishop then must be blameless, the husband of one wife, vigilant, sober, of good behaviour, given to hospitality, apt to teach;  3 Not given to wine, no striker, not greedy of filthy lucre; but patient, not a brawler, not covetous;  4 One that ruleth well his own house, having his children in subjection with all gravity;  5 (For if a man know not how to rule his own house, how shall he take care of the church of God?)  6 Not a novice, lest being lifted up with pride he fall into the condemnation of the devil.  7 Moreover he must have a good report of them which are without; lest he fall into reproach and the snare of the devil. 
The same is true of Jesus speaking of not judging if you're a hypocrite. The plank or beam we need to remove is not imperfection... nobody can be perfect.
The plank is willful sin/disobedience that we won't admit and repent of.
Pulling the plank out is confessing that sin and repenting of it. It's being a mature Christian like 1 Timothy 3 is saying we all need to be.
Mat 7:1 Judge not, that ye be not judged.  2 For with what judgment ye judge, ye shall be judged: and with what measure ye mete, it shall be measured to you again.  3 And why beholdest thou the mote that is in thy brother's eye, but considerest not the beam that is in thine own eye?  4 Or how wilt thou say to thy brother, Let me pull out the mote out of thine eye; and, behold, a beam is in thine own eye?  5 Thou hypocrite, first cast out the beam out of thine own eye; and then shalt thou see clearly to cast out the mote out of thy brother's eye. 
It's faith and obedience that are required, not perfection.
Heb 11:1 Now faith is the substance of things hoped for, the evidence of things not seen. 2 For by it the elders obtained a good report. 3 Through faith we understand that the worlds were framed by the word of God, so that things which are seen were not made of things which do appear. 4 By faith Abel offered unto God a more excellent sacrifice than Cain, by which he obtained witness that he was righteous, God testifying of his gifts: and by it he being dead yet speaketh. 5 By faith Enoch was translated that he should not see death; and was not found, because God had translated him: for before his translation he had this testimony, that he pleased God. 6 But without faith it is impossible to please him: for he that cometh to God must believe that he is, and that he is a rewarder of them that diligently seek him. 7 By faith Noah, being warned of God of things not seen as yet, moved with fear, prepared an ark to the saving of his house; by the which he condemned the world, and became heir of the righteousness which is by faith. 8 By faith Abraham, when he was called to go out into a place which he should after receive for an inheritance, obeyed; and he went out, not knowing whither he went. 9 By faith he sojourned in the land of promise, as in a strange country, dwelling in tabernacles with Isaac and Jacob, the heirs with him of the same promise: 10 For he looked for a city which hath foundations, whose builder and maker is God. 11 Through faith also Sara herself received strength to conceive seed, and was delivered of a child when she was past age, because she judged him faithful who had promised. 12 Therefore sprang there even of one, and him as good as dead, so many as the stars of the sky in multitude, and as the sand which is by the sea shore innumerable. 13 These all died in faith, not having received the promises, but having seen them afar off, and were persuaded of them, and embraced them, and confessed that they were strangers and pilgrims on the earth. 14 For they that say such things declare plainly that they seek a country. 15 And truly, if they had been mindful of that country from whence they came out, they might have had opportunity to have returned. 16 But now they desire a better country, that is, an heavenly: wherefore God is not ashamed to be called their God: for he hath prepared for them a city. 17 By faith Abraham, when he was tried, offered up Isaac: and he that had received the promises offered up his only begotten son, 18 Of whom it was said, That in Isaac shall thy seed be called: 19 Accounting that God was able to raise him up, even from the dead; from whence also he received him in a figure. 20 By faith Isaac blessed Jacob and Esau concerning things to come. 21 By faith Jacob, when he was a dying, blessed both the sons of Joseph; and worshipped, leaning upon the top of his staff. 22 By faith Joseph, when he died, made mention of the departing of the children of Israel; and gave commandment concerning his bones. 23 By faith Moses, when he was born, was hid three months of his parents, because they saw he was a proper child; and they were not afraid of the king's commandment. 24 By faith Moses, when he was come to years, refused to be called the son of Pharaoh's daughter; 25 Choosing rather to suffer affliction with the people of God, than to enjoy the pleasures of sin for a season; 26 Esteeming the reproach of Christ greater riches than the treasures in Egypt: for he had respect unto the recompence of the reward. 27 By faith he forsook Egypt, not fearing the wrath of the king: for he endured, as seeing him who is invisible. 28 Through faith he kept the passover, and the sprinkling of blood, lest he that destroyed the firstborn should touch them. 29 By faith they passed through the Red sea as by dry land: which the Egyptians assaying to do were drowned. 30 By faith the walls of Jericho fell down, after they were compassed about seven days. 31 By faith the harlot Rahab perished not with them that believed not, when she had received the spies with peace. 32 And what shall I more say? for the time would fail me to tell of Gedeon, and of Barak, and of Samson, and of Jephthae; of David also, and Samuel, and of the prophets: 33 Who through faith subdued kingdoms, wrought righteousness, obtained promises, stopped the mouths of lions, 34 Quenched the violence of fire, escaped the edge of the sword, out of weakness were made strong, waxed valiant in fight, turned to flight the armies of the aliens. 35 Women received their dead raised to life again: and others were tortured, not accepting deliverance; that they might obtain a better resurrection: 36 And others had trial of cruel mockings and scourgings, yea, moreover of bonds and imprisonment: 37 They were stoned, they were sawn asunder, were tempted, were slain with the sword: they wandered about in sheepskins and goatskins; being destitute, afflicted, tormented; 38(Of whom the world was not worthy:) they wandered in deserts, and in mountains, and in dens and caves of the earth. 39 And these all, having obtained a good report through faith, received not the promise: 40 God having provided some better thing for us, that they without us should not be made perfect. 12:1 Wherefore seeing we also are compassed about with so great a cloud of witnesses, let us lay aside every weight, and the sin which doth so easily beset us, and let us run with patience the race that is set before us, 2 Looking unto Jesus the author and finisher of our faith; who for the joy that was set before him endured the cross, despising the shame, and is set down at the right hand of the throne of God.
Some of these people we consider to be "great men of God"! But, were they perfect?
Enoch "pleased God". How? Verse's 1 and 2, and many other places in the Bible show us that faith is what pleases God... And we see that faith always produces obedience!
Abel offered a more excellent sacrifice. How? It was in obedience to God, most assuredly.
Obedience is what God requires - not perfection!
Noah grew a vineyard and got drunk on the wine after the flood:
Gen 9:20 And Noah began to be an husbandman, and he planted a vineyard: 21 And he drank of the wine, and was drunken; and he was uncovered within his tent.
He was obedient to the building of the Ark, and he was a preacher:
2 Peter 2:5 And spared not the old world, but saved Noah the eighth person, a preacher of righteousness, bringing in the flood upon the world of the ungodly
Abraham and Sarah were too old to bear children:
Gen 18:10 And he said, I will certainly return unto thee according to the time of life; and, lo, Sarah thy wife shall have a son. And Sarah heard it in the tent door, which was behind him. 11 Now Abraham and Sarah were old and well stricken in age; and it ceased to be with Sarah after the manner of women. 12 Therefore Sarah laughed within herself, saying, After I am waxed old shall I have pleasure, my lord being old also? 13 And the LORD said unto Abraham, Wherefore did Sarah laugh, saying, Shall I of a surety bear a child, which am old? 14 Is any thing too hard for the LORD? At the time appointed I will return unto thee, according to the time of life, and Sarah shall have a son. 15 Then Sarah denied, saying, I laughed not; for she was afraid. And he said, Nay; but thou didst laugh.
Gen 21:5 And Abraham was an hundred years old, when his son Isaac was born unto him. 6 And Sarah said, God hath made me to laugh, so that all that hear will laugh with me. 7 And she said, Who would have said unto Abraham, that Sarah should have given children suck? for I have born him a son in his old age.
He was obedient in everything, going where God said, to almost killing Isaac, etc.
Leah was not beautiful:
Gen 29:17 Leah was tender eyed; but Rachel was beautiful and well favoured. Gen 29:31 And when the LORD saw that Leah was hated, he opened her womb: but Rachel was barren.
Leah bore 10 (some through servants) of the 12 sons of Jacob (bearing children was the honor of women back then).
Joseph was a slave and prisoner:
Gen 45:4 And Joseph said unto his brethren, Come near to me, I pray you. And they came near. And he said, I am Joseph your brother, whom ye sold into Egypt. 5 Now therefore be not grieved, nor angry with yourselves, that ye sold me hither: for God did send me before you to preserve life. 6 For these two years hath the famine been in the land: and yet there are five years, in the which there shall neither be earing nor harvest. 7 And God sent me before you to preserve you a posterity in the earth, and to save your lives by a great deliverance. 8 So now it was not you that sent me hither, but God: and he hath made me a father to Pharaoh, and lord of all his house, and a ruler throughout all the land of Egypt.
Moses argued with God and didn't want to obey:
Ex 4:10 And Moses said unto the LORD, O my Lord, I am not eloquent, neither heretofore, nor since thou hast spoken unto thy servant: but I am slow of speech, and of a slow tongue.
Moses obeyed God and did many things in service for God.
On a side note, many teach he had a stuttering problem... but, it's not true, he was just making excuses to God:
Acts 7:22 And Moses was learned in all the wisdom of the Egyptians, and was mighty in words and in deeds.
And we know what happened due to that arguing!
Ex 32:20 And he took the calf which they had made, and burnt it in the fire, and ground it to powder, and strawed it upon the water, and made the children of Israel drink of it. 21 And Moses said unto Aaron, What did this people unto thee, that thou hast brought so great a sin upon them?
Be obedient to the Lord when He calls and don't argue! 3 thousand people died because of that!
Gideon was afraid... he acted in fear and questioned God but God still used him...
Abraham and Jacob also did things out of fear... Abraham with Sarah and the king, Jacob with Esau when he returned.
Samson was a whoremonger... because of that he ended up being tortured, mocked and killed, but God showed His strength in Samson.
Rahab was a prostitute... but God used her to keep the spies safe and she was spared from death in the destruction of Jericho.
Elijah wished he would just die:
1 Kings 19:4 But he himself went a day's journey into the wilderness, and came and sat down under a juniper tree: and he requested for himself that he might die; and said, It is enough; now, O LORD, take away my life; for I am not better than my fathers.
Even though it was unbearable at times, he still obeyed God!
James 5:17 Elias was a man subject to like passions as we are, and he prayed earnestly that it might not rain : and it rained not on the earth by the space of three years and six months.
And he was used mightily by God!
Jonah ran from God...
Peter denied Christ...
Martha complained about serving and working more than Mary...
The Samaritan woman was divorced, more than once:
John 4:18 For thou hast had five husbands; and he whom thou now hast is not thy husband: in that saidst thou truly. God used her: John 4:28 The woman then left her waterpot, and went her way into the city, and saith to the men, 29 Come, see a man, which told me all things that ever I did: is not this the Christ? 30 Then they went out of the city, and came unto him.
She was used by God to witness to many in her city, and though the Bible does not say, since her belief we can assume she began to live a life pleasing to God.
Zaccheus was small of stature...
Paul had a thorn in the flesh:
2 Cor 12:7 And lest I should be exalted above measure through the abundance of the revelations, there was given to me a thorn in the flesh , the messenger of Satan to buffet me, lest I should be exalted above measure.
But he was obedient to God his whole life!
The mere recording of the weaknesses of these men does not suggest that their actions were condoned by the Lord. Clearly, they were not. Abraham's deception was brought to light, Moses' transgression prevented him from entering into Canaan, and David's sin with Bathsheba precipitated serious and long-lasting consequences; the child of that affair died...
But God forgave David because he repented, and the next son of David and Bathsheba was Solomon who became the greatest king to ever live.
Num 20:12 And the LORD spake unto Moses and Aaron, Because ye believed me not, to sanctify me in the eyes of the children of Israel, therefore ye shall not bring this congregation into the land which I have given them.
But, Moses was greatly blessed by God because of his faith and obedience.
Abraham's faith was counted as righteousness and he was called a "friend of God". His faith and obedience is what made him righteous before God!
James 2:21 Was not Abraham our father justified by works, when he had offered Isaac his son upon the altar? 22 Seest thou how faith wrought with his works, and by works was faith made perfect? 23 And the scripture was fulfilled which saith, Abraham believed God, and it was imputed unto him for righteousness: and he was called the Friend of God.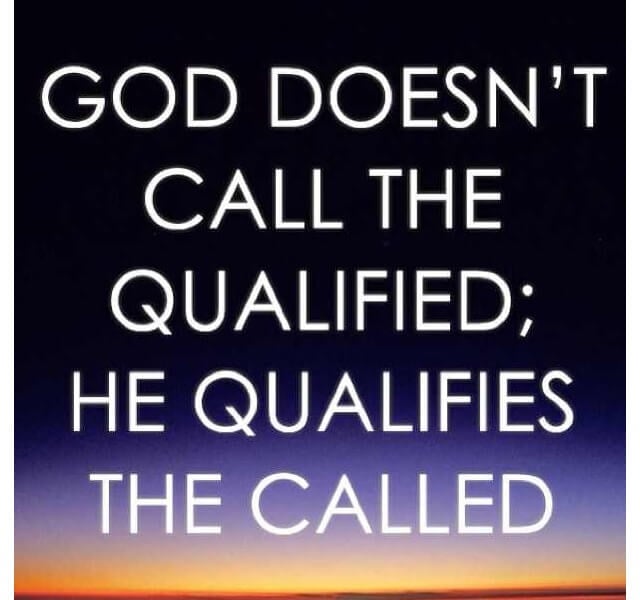 It is our place to believe God and obey Him. It's obedience that God honors! Not fake words of faith as so many are guitly of.
See: What it means to live a Christian Life and how obedience is part of it!