Is repentance necessary?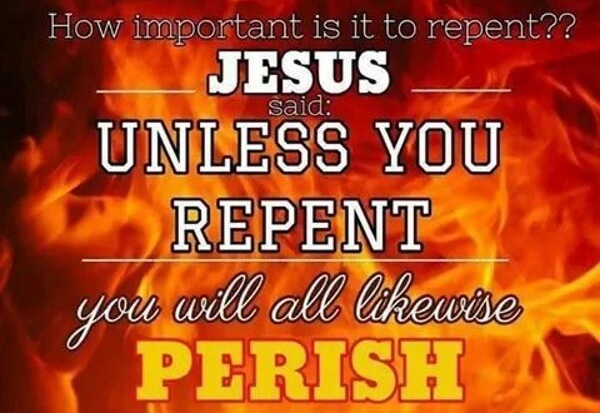 Jesus said so, the Apostles all said so, we should absolutely believe it and understand that without repentance, without turning from sin, there is no salvation!
The bible teaches that repentance is absolutely necessary
Acts 2:38 Then Peter said unto them, Repent, and be baptized every one of you in the name of Jesus Christ for the remission of sins, and ye shall receive the gift of the Holy Ghost.
Acts 3:19 Repent ye therefore, and be converted, that your sins may be blotted out, when the times of refreshing shall come from the presence of the Lord;
Acts 17:30 And the times of this ignorance God winked at; but now commandeth all men every where to repent:
Acts 26:20 But shewed first unto them of Damascus, and at Jerusalem, and throughout all the coasts of Judaea, and then to the Gentiles, that they should repent and turn to God, and do works meet for repentance.
Jesus taught repentance and the Apostles taught repentance in many places in the bible. To repent is a conscious decision to turn away from your sinful nature.
Would you agree that even repenting is doing something? It's not physical, and nothing physical is required for salvation, but if we don't turn away from our sinful life to follow the Lord are we saved?
Matt 10:38 And he that taketh not his cross, and followeth after me, is not worthy of me. 39 He that findeth his life shall lose it: and he that loseth his life for my sake shall find it.
Matt 16:24 Then said Jesus unto his disciples, If any man will come after me, let him deny himself, and take up his cross, and follow me.
Luke 18:22 Now when Jesus heard these things, he said unto him, Yet lackest thou one thing: sell all that thou hast, and distribute unto the poor, and thou shalt have treasure in heaven: and come, follow me.
Luke 13:5 I tell you, Nay: but, except ye repent, ye shall all likewise perish.
Matt 3:8 Bring forth therefore fruits meet for repentance:
2 Peter 3:9 The Lord is not slack concerning his promise, as some men count slackness; but is longsuffering to us-ward, not willing that any should perish, but that all should come to repentance.
We must repent and cease from sin!
Rom 6:15 What then? shall we sin, because we are not under the law, but under grace? God forbid.
Heb 10:26 For if we sin wilfully after that we have received the knowledge of the truth, there remaineth no more sacrifice for sins...
Galatians 2:17 But if, while we seek to be justified by Christ, we ourselves also are found sinners, is therefore Christ the minister of sin? God forbid.
2 Timothy 2:19 Let every one that nameth the name of Christ depart from iniquity.
For more information, see the following pages:
How to live a truly Christian life and follow Jesus
What does it mean to love my neighbor? And what is sin, really?