Where Do We Go When We Die?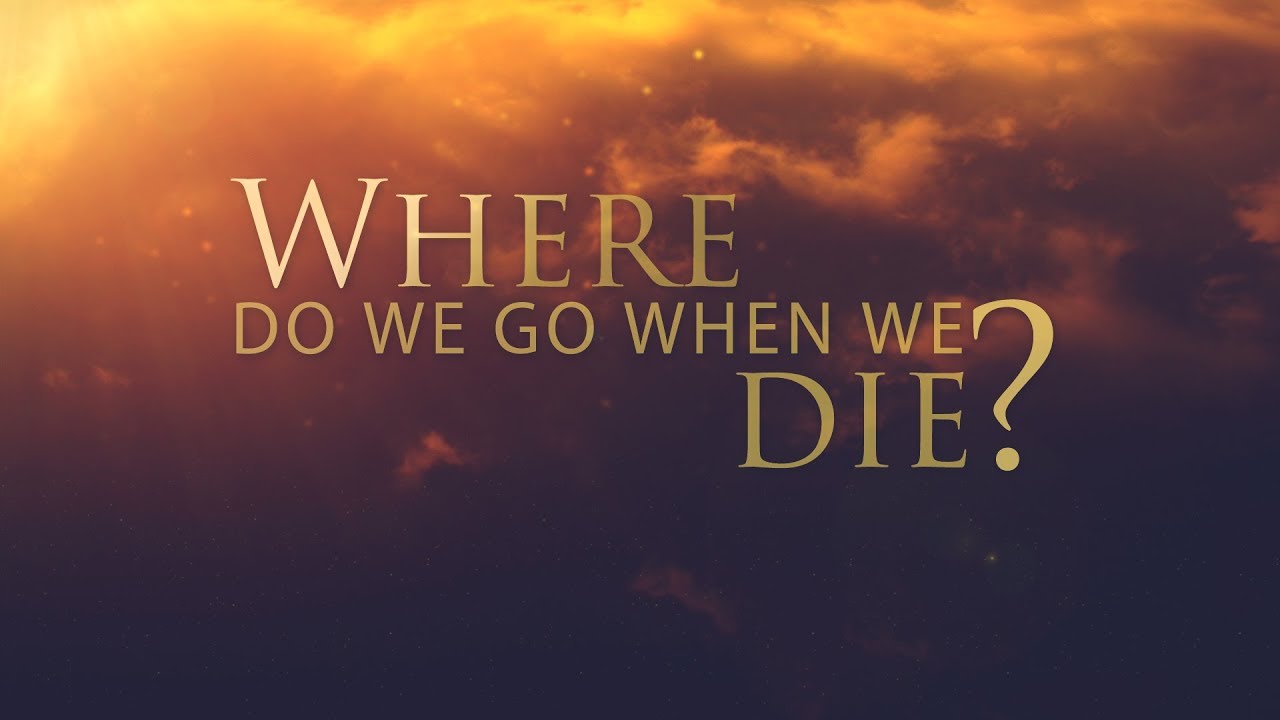 That's a good question, and one that I've asked, myself. There are a couple things we need to look at in order to understand:
What is "hell", and what does Paul mean when he says, "sleep", when referring to the dead?
Paul uses the word, "sleep" in 1 Cor 15:51 and 1 Thess 4:14 where he also uses the word, "dead" in 1 Cor 15:52 and 1 Thess 4:16.
This indicates that by sleep, he also means death of our physical body.
1 Co 15:51 Behold, I shew you a mystery; We shall not all sleep, but we shall all be changed, (the word sleep here means "deceased") 52 In a moment, in the twinkling of an eye, at the last trump: for the trumpet shall sound, and the dead shall be raised incorruptible, and we shall be changed.  53 For this corruptible must put on incorruption, and this mortal must put on immortality.
1 Th 4:16 For the Lord himself shall descend from heaven with a shout, with the voice of the archangel, and with the trump of God: and the dead in Christ shall rise first:
Paul speaks of the resurrection, but it's the resurrection of the body, not the spirit since the spirit is not dead.
2 Co 5:8 We are confident, I say, and willing rather to be absent from the body, and to be present with the Lord.
So we see that "sleep" really means the body is dead, but not the spirit or soul. When our bodies die, we're still alive, and either in bosom of Abraham or in a place of torment.
Notice in Luke that the beggar dies and goes to the place where Abraham is, and that there's a great gulf fixed between the good part and the bad part...
Luke 16:19 There was a certain rich man, which was clothed in purple and fine linen, and fared sumptuously every day: 20 And there was a certain beggar named Lazarus , which was laid at his gate, full of sores, 21 And desiring to be fed with the crumbs which fell from the rich man's table: moreover the dogs came and licked his sores. 22 And it came to pass, that the beggar died, and was carried by the angels into Abraham's bosom: the rich man also died, and was buried; 23 And in hell he lift up his eyes, being in torments, and seeth Abraham afar off, and Lazarus in his bosom. 24 And he cried and said, Father Abraham, have mercy on me, and send Lazarus , that he may dip the tip of his finger in water, and cool my tongue; for I am tormented in this flame. 25 But Abraham said, Son, remember that thou in thy lifetime receivedst thy good things, and likewise Lazarus evil things: but now he is comforted, and thou art tormented. 26 And beside all this, between us and you there is a great gulf fixed: so that they which would pass from hence to you cannot; neither can they pass to us, that would come from thence. 27 Then he said, I pray thee therefore, father, that thou wouldest send him to my father's house: 28 For I have five brethren; that he may testify unto them, lest they also come into this place of torment. 29 Abraham saith unto him, They have Moses and the prophets; let them hear them. 30 And he said, Nay, father Abraham: but if one went unto them from the dead, they will repent. 31 And he said unto him, If they hear not Moses and the prophets, neither will they be persuaded, though one rose from the dead.
The symbolic "bosom" of Abraham is actually one of the parts of Sheol, where it's "the place for the elect", where the "first fathers and the righteous who from the beginning dwell" according to Enoch.
But what information about hell do we have in the Biblical Canon of Scripture?
The word "hell" is actually Hades (NT) or Sheol (OT):
OT:7585 she'owl (sheh-ole'); or sheol (sheh-ole'); from OT:7592; Hades or the world of the dead (as if a subterranean retreat), including its accessories and inmates:
NT:86 haides (hah'-dace); from NT:1 (as negative particle) and NT:1492; properly, unseen, i.e. "Hades" or the place (state) of departed souls:
It's where the souls of the dead go.
It has different levels...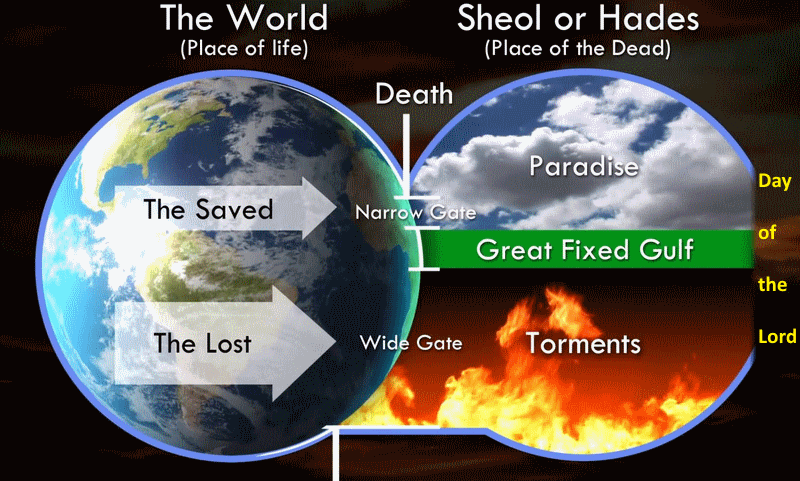 2 Peter 2:4 For if God spared not the angels that sinned, but cast them down to hell (Tartaroo), and delivered them into chains of darkness, to be reserved unto judgment;
NT:5020 tartaroo (tar-tar-o'-o); from Tartaros (the deepest abyss of Hades); to incarcerate in eternal torment:
The deepest abyss indicates there is more than one level since there would have to be levels that are "less deep" than the "deepest".
Tartaroo is where the angels are reserved (the deepest abyss of Hades) for Judgement in 2 Peter 2:4.
The bosom of Abraham is another part of this that is separated by a completely impassable gulf that cannot be crossed.
I can imagine how wonderful it was in Sheol when Jesus visited them while His body was buried for 3 days.
Jesus said to the thief beside Him, "today you will be with me in paradise" (Luke 23:43); He did not say, "I will see you in hell." Jesus' body was in the tomb; His soul/spirit went to be with the blessed in sheol/hades.
Just as Jesus was not "left in hell", as we are, until the day of the Lord:
Act 2:31 He seeing this before spake of the resurrection of Christ, that his soul was not left in hell, neither his flesh did see corruption.
Sheol/hades is a realm with multiple divisions; a place of blessing and a place of judgment (Matthew 11:23; 16:18; Luke 10:15; 16:23; Acts 2:27–31). The abodes of the saved and the lost are both called "hades" or "sheol" in the Bible. The abode of the saved is also called "Abraham's bosom" in Luke 16:22 and "paradise" in Luke 23:43. The abode of the unsaved is called "hell" in Luke 16:23. The abodes of the saved and the lost are separated by a "great gulf" (Luke 16:26). When Jesus died, He went to the blessed side of Sheol (Ephesians 4:8–10). The judgment sides of sheol/hades has three parts. All unbelieving dead go there awaiting their final judgment in the future. Did Jesus go to sheol/hades? Yes, according to Ephesians 4:8–10 and 1 Peter 3:18–20, 4:6.
An extra-Biblical book we have today is the Book of Enoch, which was discovered among the Dead Sea Scrolls, is quoted by both Jude and Peter, and we're told in Genesis and Hebrews that Enoch was taken to be with the Lord just like Elijah. This book of prophecy also gives us a much greater understanding of Sheol!
In Enoch 22 - Hell is explained in greater detail than we had previosly seen in the Bible that we have today.
There is more than one "level" or "part" to hell. It's the place of the dead, separated with no way to cross to the other parts, for sinners in some parts and for the saints of God in the good part.
In Enoch we're shown that there are four different parts of Sheol for the souls of men to be separated and reserved until Judgement Day. We see that some will "not be slain in the day of judgement nor shall they be raised from thence". These will remain in hell forever.
There is a part "in which there is the bright spring of water" for the righteous dead.
Enoch 70 - Enoch is translated to "the place for the elect", where he saw the "first fathers and the righteous who from the beginning dwell". Enoch was taken to the good part of Sheol where the righteous are all resting and waiting for the Day of the Lord.
This is where all of the dead in Christ are, resting and waiting until the Day of the Lord.
This is why Peter says the gospel is also preached to the dead, and how Jesus was also "descended" when he was dead for 3 days.
1 Peter 4:6 For for this cause was the gospel preached also to them that are dead, that they might be judged according to men in the flesh, but live according to God in the spirit.
Eph 4:7 But unto every one of us is given grace according to the measure of the gift of Christ.  8 Wherefore he saith, When he ascended up on high, he led captivity captive, and gave gifts unto men.  9 (Now that he ascended, what is it but that he also descended first into the lower parts of the earth?  10 He that descended is the same also that ascended up far above all heavens, that he might fill all things.) 
This is where "Abraham's bosom" is in Luke 16. Where all who await the Lord are.
In order to understand fully, we need to understand that "hell" is not the same as the "lake of fire" (Rev 20:11-15), and that it has more than one part to it... It's a much different place than most people believe.
Some final notes:
Rev 6:9 And when he had opened the fifth seal, I saw under the altar the souls of them that were slain for the word of God, and for the testimony which they held:
The souls under the altar (which are resting), being "asleep", and being absent from the body are all symbolic of being in the good part of Sheol.
Also, Samuel was brought back into this world after he was dead, and Moses and Elijah were talking with Jesus at the transformation. None are dead in spirit.
1 Sam 28:15 And Samuel said to Saul, Why hast thou disquieted me, to bring me up? And Saul answered, I am sore distressed; for the Philistines make war against me, and God is departed from me, and answereth me no more, neither by prophets, nor by dreams: therefore I have called thee, that thou mayest make known unto me what I shall do. 
Mat 17:3 And, behold, there appeared unto them Moses and Elias talking with him.
Elijah (Elias in the New Testament) never died and was taken to heaven by God. And, Moses was with Elijah when he was speaking with Jesus. Moses actually died, so we see that both are able to appear and speak with Jesus.
We see many examples there where the body is dead but the spirit is not.
We don't go to the heaven of heavens so to speak, but we go to a place of rest to await the day of the Lord.
John 11:24 Martha saith unto him, I know that he shall rise again in the resurrection at the last day.
So all those who have died are in one part or another of Sheol, waiting for the Lord's day. Some for judgment, and some for everlasting life! I thank you, Lord, for your blood and your grace and mercy, that we might spend eternity with you! Praise your Name!
For more information, see the following pages: