Who are these people that are responsible for all the crooked governments and the agenda they all seem to share? The Elites? Freemasons? Illuminati? Satan Worshipers? The Cabal?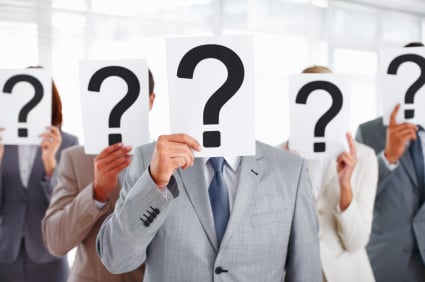 Have you ever thought about what we're seeing in the world today and wondered why it is exactly like the run-up to WW2 and Hitler?
The media was used for disinformation - Just as it has for years now in the US and Western world - Hitler began in 1920
The propaganda used by the German Nazi Party in the years leading up to and during Adolf Hitler's leadership of Germany was a crucial instrument for acquiring and maintaining power, and for the implementation of Nazi policies.
Hitler capitalized on economic woes, popular discontent and political infighting to take absolute power in Germany beginning in 1933
Racism was used to sway opinions and cause division - Aryan race was superior - They hated Jews more than anyone even though they were less than 1 percent of the German population
Schools were used to manipulate and program the children
They took their guns... It began with Jews and "enemies of the state", but grew into confiscation of arms in all occupied countries
Back then, the Jews were the main object of hatred. Today it's still Jews, but now includes "white conservatives" or Christians
Why is it exactly like that today? Because Satan did that, and Satan is doing this... same guy... same MO...
But this time Satan has gone global...
And the Stage is Set for his takeover of the world!
He tried with Antiochus Epiphanes, he tried with General Titus of the Roman army, he tried with Hitler, all of which failed, but he's trying again and this time it matches the timeline of the Bible and it looks like this will be the Last Day prophesied in the Bible!
He's added immigration of his loyal killers (Islam) into the world to add another battle front... and, he's using this false religion to create a universal religion with help from his Catholics, and the push for Interfaithism. He's trying to get the world to unite and turn from the True God.
If you noticed, the last 3-4 years have shown that there is coordination among the nations of the world, and they all seem to be working for the same agenda!
It's not just the US, it's Australia (the government has assumed the role of tyrannical dictator) and Europe (immigration has them in a choke-hold)... and the open border in the US is accelerating this process in America.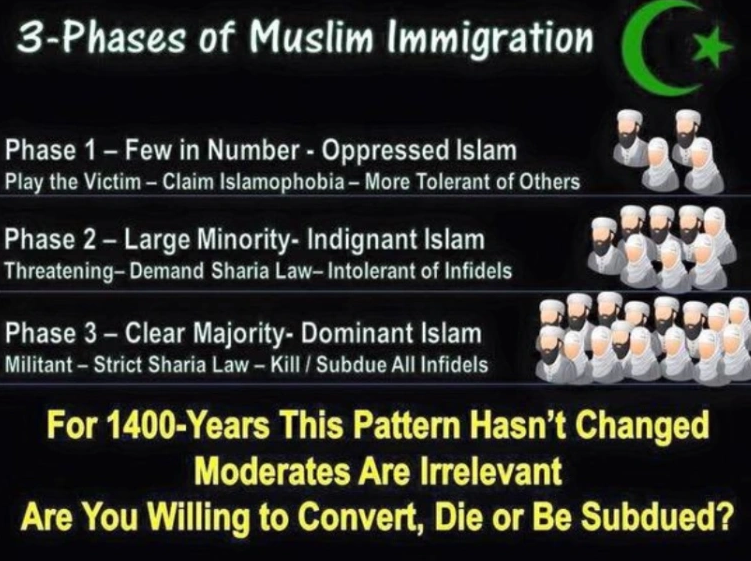 ---
Thousands upon thousands of Muslim infiltrators are entering the country and setting up for the takeover from within. This is already entering phase 2 in Europe where they are beginning to make demands and destroying the cultures of the European nations, setting up to begin Sharia Law implementation.
---
China has been buying people from local level administrators to high level politicians for decades...
People like Gates and Soros and their sinister plans, big pharma owning everything including the AMA (big money is against us), and the media hiding facts and spewing misinformation...
And if you think the WEF and Klaus Schwab are the head of the snake, think again. This is centuries in the making and goes much deeper than the Schwab puppet. This is just the public face, but the Puppet Master remains hidden...
And the Muslim infiltration and misinformation campaign that's been in progress for many years...
The US seems to be doomed along with the rest of "western" civilization.
Have you heard of The Great Reset? I believe this is what Jesus meant when He said there would be no flesh saved if He didn't set the date where He set it. We would kill ourselves off!
It's time to get right with GOD.
Now, I am not a conspiracy theorist. Not by a long stretch, but we know that there is a "they". There's a push for the "New World Order" in governments all over the world. There are organizations and groups of people that are manipulating things, and we know this. It's not a conspiracy theory, it's a fact.
Have you ever asked, "Who is they"? Who is this "they" that everyone talks about? Who are these people that are responsible for all the crooked governments and the agenda they all seem to share? The Elites? Freemasons? Illuminati? Satan Worshipers? The Cabal?
We know Satan is behind it and is very involved, but who are they? Are they people that are just duped by Satan and manipulated and don't even know what they're doing, or are they in league with him?
Satan is not some dumb evil spirit flitting about, lying and whispering in people's ears trying to get them to stumble.
He's a very powerful fallen angel that has infiltrated our societies and taken control of our governments and has almost complete control of this world!
Eph 6:12 For we wrestle not against flesh and blood, but against principalities, against powers, against the rulers of the darkness of this world, against spiritual wickedness in high places.
2 Cor 4:4 says that Satan is the "god of this world" and that he's blinded the minds of those who don't believe in Jesus.
I have to tell you a story here. I started working on this newsletter, and was preparing the information I talked about above, when I received an email from Kylie, a reader of my web site asking me to take a look at a YouTube video. As I was reviewing this video on the Freemasons and their secret society, I received another email from my sister in Christ, Claudette, whom I also know from my web site, about the very same thing. Both of them quoting Freemasons and talking about Luciferian worship.
God seems to want me to know this... I've blown off most all of what I saw as conspiracy theory in the past, but God won't let me ignore it this time.
I've done some additional research and confirmed some things, and found, as expected, that the Freemasons that are below the 33rd degree will argue and dispute anyone claiming the things in that video and others saying the same thing, because that's how they keep it so guarded and secret. No one knows unless they're explicitly invited into the secret society, and the rest are lied to and kept in the dark.
It's a perfect facade.
So I have to ask you a question: If there's a conspiracy, and we talk about it, does that makes us conspiracy theorists? LOL Yes, and no. If it's real, and we're discussing facts, we're not theorizing. If we speculate, then it's theory. But when it's based on fact, it is not a theory, it's reality.
I see how the devil has his fingers in many things and has set up multiple fronts to achieve his goals (Freemasons, Buddhists, Muslims, Catholicism, etc).
I have already concluded long ago that Satan has the "they" under his spell and is using high level people all over the world to do his biding, so it's actually fitting very well to know that it's through this disguised multi-facet facade I can now name.
It's very interesting to see how he has hidden witchcraft, which is one of the questions I've always had. I know it didn't disappear after the recording of such things in the Bible, and I've wondered how far and wide it is, since it's not known among the masses. Now I know where he's hiding it.
Answer to "Who is they?": All of the above. But they're one group of people working in many areas of politics, royalty, the super rich, including many of the celebrities of the world, and the people of influence around the world. And they have many names, but only one organization structure.
They're all the same people. They're all in league with each other. It's actually very impressive how the Freemasons have structured their facade. They have 90% of their people ignorant of the reality going on above them so they seem like the true face of the Freemason and project innocence (nothing going on here). They use the process of rising in rank to filter out those who won't keep their secrets, and to look for those who will love what they do and join them. And they have many wings to their political structure and side organizations that all exist under the umbrella of their top leaders. All worshiping Lucifer and using dark and evil power to gain advantage over all of us. They've been around for centuries and have agents in just about every country in the world.
I knew a 32 degree Mason (God rest his soul), who told me how it was almost impossible to get to the last and highest degree of Freemasons and how secretive it was. This was a man who would never do the things they do, so he never got invited, as we would expect.
Those at the top, in the "secret society" as they call it, are the only ones that know what they're really doing behind closed doors. Now don't get me wrong. I'm not saying they all love vile wickedness and worship who they think is an evil devil. They think they're worshiping the true god. They think that Lucifer is the "light". That he's "darkness visible". Yes, he has them fooled.
2 Cor 11:14 And no marvel; for Satan himself is transformed into an angel of light.
2 Cor 4:4 ... the god of this world hath blinded the minds of them which believe not ...
2 Thess 2:9 Even him, whose coming is after the working of Satan with all power and signs and lying wonders, (POWER and SIGNS and LYING WONDERS) 10 And with all deceivableness of unrighteousness in them that perish; because they received not the love of the truth, that they might be saved.  11 And for this cause God shall send them strong delusion, that they should believe a lie:  (the lying wonders of Satan) 12 That they all might be damned who believed not the truth, but had pleasure in unrighteousness.
One thing we have to remember is that Satan does not love those people who worship him. He hates them. He's only using them to pursue his plans and he will stab them in the back and discard them when he's done.
I'm telling you; This is REAL. Satan has a lot more organization to his efforts than you might have thought. A lot more than I thought.
Again, Satan is not some dumb evil spirit flitting about, lying and whispering in people's ears trying to get them to stumble.
He's a very powerful fallen angel that has infiltrated our societies and taken control of our governments and has almost complete control of this world!
A few things about the Freemasons and the facade they present to the world:
As mentioned above, 90% of them don't believe that there's anything going on they don't know about. They are in the dark as much as non-Freemasons.
But all of those people do know that there are secrets that they must not share. They take vows every time they are raised to a higher degree.
Many of them pretend to be Christians while they are secretly worshiping a different god, even though most are just worshiping the ideals of Freemasonry.
There are many side organizations and other fake fronts.
None of them will ever admit these things to anyone.
The secret society of 33rd degree Freemasons is a large group of people in league with each other who want to bring in the "next era" in human existence. One where they control the population (reduced by far from what it is now), and where they are the rulers of the world.
The "sorcerers" and magic users of the Bible still exist today within this secret society. They get their power from Lucifer, the fallen angel. But they believe he is the true god and that Jesus is a "suppressor" and inferior.
These people do not comprehend that their god doesn't love them, or that he's not really their god. They are blinded and fooled by him 100%.
They think of the common people as "stupid". They flaunt it in our faces... (watch the video linked below)
They do not comprehend that Satan actually hates them.
They think he's going to actually allow them to conclude their plans of world domination.
He also created Islam and he can usurp their plans all he wants, and he will do just that when his Antichrist is ready.
Why would he not use them to set up the world where he wants it for the Mahdi, and then take it away from them?
He will stab them all in the back in the end... but he will continue to use them by giving them less than they expected...
An interesting thing about the Antichrist in Daniel 11; It states that he does not serve the god of his fathers, or any god, but a "strange god" is involved.
Dan 11:23 And after the league made with him he shall work deceitfully
Dan 11:36 And the king shall do according to his will; and he shall exalt himself, and magnify himself above every god. 37 Neither shall he regard the God of his fathers, nor the desire of women, nor regard any god: for he shall magnify himself above all. 
Dan 11:38 But in his estate shall he honour the god of forces: and a god whom his fathers knew not shall he honour with gold, and silver, and with precious stones, and pleasant things
Dan 11:39  Thus shall he do in the most strong holds with a strange god, whom he shall acknowledge and increase with glory: and he shall cause them to rule over many, and shall divide the land for gain.
He will almost certainly be a Muslim as we see in prophecy all over the place, but he won't be a true believer, and he will either be a secret Freemason or will simply "make a league with them" through the devil, and "divide the land" with them.
Satan has so many battle fronts going on... if you look around and think what you see is reality, think again. There is a major war going on in the spiritual realm and you're part of it one way or another. You're either one of satans pawns and you're cannon fodder, or you're a warrior for Christ. There's no middle ground. If you don't belong to God, you belong to the devil, and he hates you!
Eph 6:12 For we wrestle not against flesh and blood, but against principalities, against powers, against the rulers of the darkness of this world, against spiritual wickedness in high places.
Am I asking you to believe the Freemasons and their secret society are worshiping Satan, and that they are agents of the devil and plan to kill many of us and take over the world? That they're the "they" we know to be working in high places? That they have almost complete control of this world now?
No. That's for you to do your own research and decide for yourself.
Am I asking you to believe that Satan has a much firmer hold on this world than many of us believe, and that he's manipulating the governments and people of this world? That it's really him that is behind all this, working through the people that are doing it?
Yes! Absolutely! We know this to be true because the Bible tells us so.
When the Antichrist rules the world, it will be Satan's power that he uses to rule, and the False Prophet will do magical miracles by the power of Satan to fool us all.
THERE IS A WAR RAGING ALL AROUND US!
The devil and his minions are very, very busy. Are we?
The New World Order is coming like a freight train... we better GET busy!
It's time to get right with GOD and start fighting His war!
Some additional information for in-depth study:
Now take a look at Who is the Head of the Snake? Who is the Puppet Master?
More information on the All-Seeing Eye and the Delta/Omicron variants of Covid
And the Stage is Set for Satan's takeover of the world!