What does it really mean to believe in the Lord Jesus?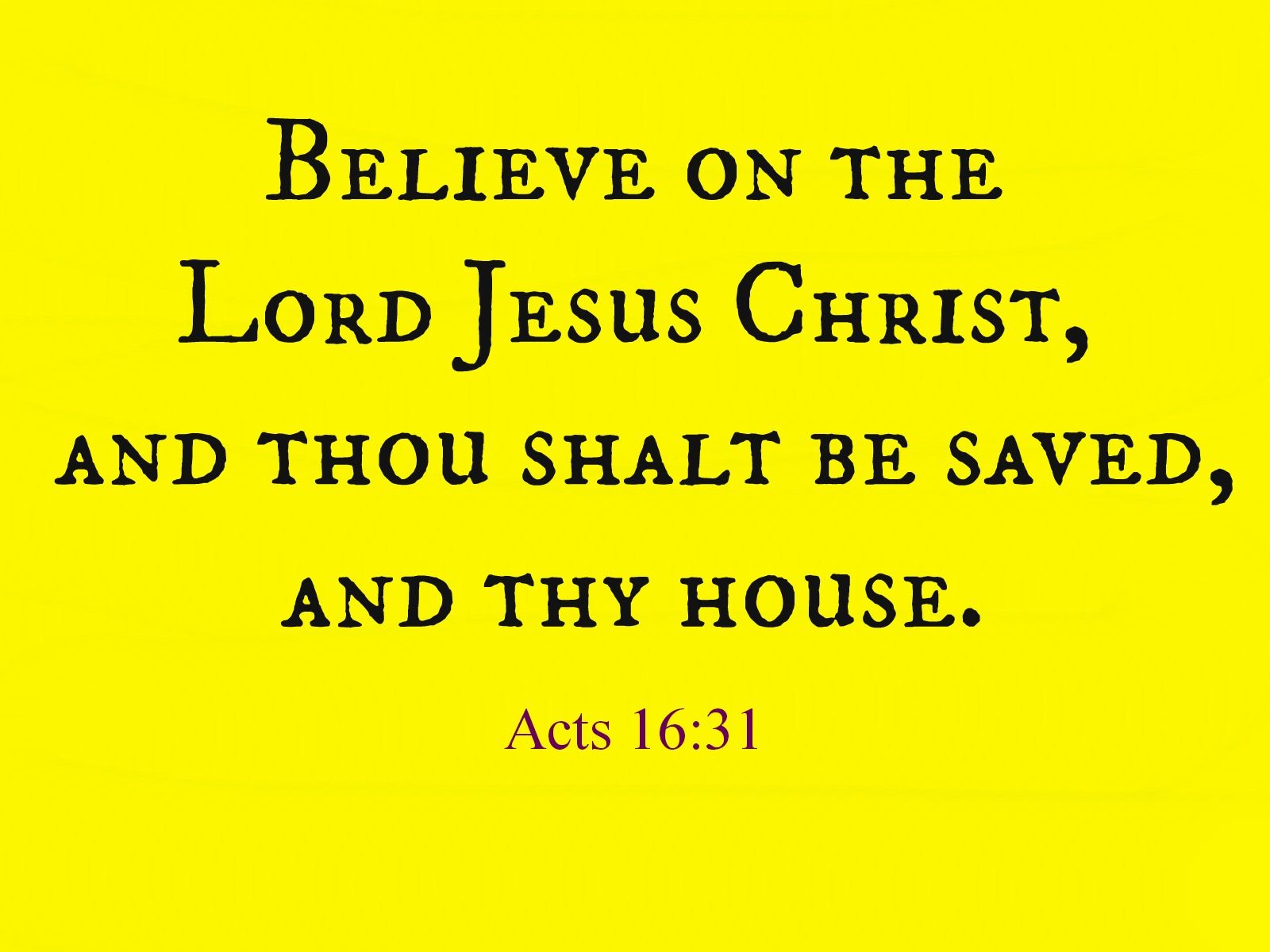 Most of the mainstream churches teach to "just believe", or "accept Jesus as your personal savior", or "trust Jesus", etc...
But, what does that really mean?
What did the jailer do when they told him to believe?
First, he listened to them as they told him about Christ and the gospel. He even brought his whole household to listen. Acts 16:32 And they spake unto him the word of the Lord, and to all that were in his house.

Then, he and all his house were baptized. Acts 16:33 And he took them the same hour of the night, and washed their stripes; and was baptized, he and all his, straightway.

And then he rejoiced in the Lord and salvation! Acts 16:34 And when he had brought them into his house, he set meat before them, and rejoiced, believing in God with all his house.
The important thing to note here is that they didn't just "say a prayer", or just leave it at "believe" and nothing else. He listened to the truth, and obeyed the gospel by being baptized (it is assumed that he repented), and he rejoiced in the Lord, believing in God! This experience was a life changing one!
What does the Bible say comes with belief?
Confess with your mouth... Rom 10:9 That if thou shalt confess with thy mouth the Lord Jesus, and shalt believe in thine heart that God hath raised him from the dead, thou shalt be saved.

Love God... Mark 12:29 And Jesus answered him, The first of all the commandments is, Hear, O Israel; The Lord our God is one Lord: 30 And thou shalt love the Lord thy God with all thy heart, and with all thy soul, and with all thy mind, and with all thy strength: this is the first commandment.

And what does it mean to love God?

He should be our Lord and Master if we say we believe... John 13:13 Ye call me Master and Lord: and ye say well; for so I am.

If we say we know Him, but don't obey Him, we are liars! 1 John 2:3 And hereby we do know that we know him, if we keep his commandments. 4 He that saith, I know him, and keepeth not his commandments, is a liar, and the truth is not in him.

Why would we say He's our Lord but don't do what He said? Luke 6:46 And why call ye me, Lord, Lord, and do not the things which I say?

Many think they know the Lord, but do not... Mat 7:21 Not every one that saith unto me, Lord, Lord, shall enter into the kingdom of heaven; but he that doeth the will of my Father which is in heaven. 22 Many will say to me in that day, Lord, Lord, have we not prophesied in thy name? and in thy name have cast out devils? and in thy name done many wonderful works? 23 And then will I profess unto them, I never knew you: depart from me, ye that work iniquity.
Is belief alone enough?
Heb 10:39 But we are not of them who draw back unto perdition; but of them that believe to the saving of the soul. Believing to the saving of the soul means believing enough to do something with that belief and change for Christ's sake.
True faith and repentance will always cause a person to be obedient to the plan of God for salvation. Always.
So many people who love excuses will say, "You don't have to do anything...", but we see in the scriptures that we definitely have to do something or our salvation is not real.
Acts 26:20 But shewed first unto them of Damascus, and at Jerusalem, and throughout all the coasts of Judaea, and then to the Gentiles, that they should repent and turn to God, and do works meet for repentance.
Works (the things we do for God) are because of salvation, not for salvation.
We can believe in a way that does not bring salvation! We can worship Jesus in vain!
Like the sorcerer in Acts 8. Acts 8:13 Then Simon himself believed also: and when he was baptized, he continued with Philip, and wondered, beholding the miracles and signs which were done. ... 20 But Peter said unto him, Thy money perish with thee, because thou hast thought that the gift of God may be purchased with money.  21 Thou hast neither part nor lot in this matter: for thy heart is not right in the sight of God.  Simon believed, but not to the saving of the soul...

We can worship Jesus in vain! Mat 15:9 But in vain they do worship me, teaching for doctrines the commandments of men.

Paul mentions the same thing, that we can believe in vain... 1 Cor 15:2 By which also ye are saved, if ye keep in memory what I preached unto you, unless ye have believed in vain.
But verses like John 3:16 show us that belief alone is all the matters, right?! - Just 20 verses later - (ASV) John 3:36 He that believeth on the Son hath eternal life; but he that obeyeth not the Son shall not see life, but the wrath of God abideth on him.
This is why it's so important to read the entire Bible and let it interpret itself! It's the only way to understand the whole truth.
Belief brings:
Abstaining from wickedness, ceasing from sin: 1 Thess 5:22 Abstain from all appearance of evil.

Rom 6:15 What then? shall we sin, because we are not under the law, but under grace? God forbid.

Heb 10:26 For if we sin willfully after that we have received the knowledge of the truth, there remaineth no more sacrifice for sins...

Galatians 2:17 But if, while we seek to be justified by Christ, we ourselves also are found sinners, is therefore Christ the minister of sin? God forbid.

2 Timothy 2:19 Let every one that nameth the name of Christ depart from iniquity.

Being separate from the "world": 2 Cor 6:17 Wherefore come out from among them, and be ye separate, saith the Lord, and touch not the unclean thing; and I will receive you, 18 And will be a Father unto you, and ye shall be my sons and daughters, saith the Lord Almighty.

1 John 2:15 Love not the world, neither the things that are in the world. If any man love the world, the love of the Father is not in him. 16 For all that is in the world, the lust of the flesh, and the lust of the eyes, and the pride of life, is not of the Father, but is of the world.

Hate evil: Psa 97:10 Ye that love the LORD, hate evil... Think about this. God absolutely hates evil (lying, cheating, sexual immorality, pride, murder, etc.), and we should also hate these things.

Obey the gospel: 2 Thess 1:8 In flaming fire taking vengeance on them that know not God, and that obey not the gospel of our Lord Jesus Christ: 1 Peter 4:17 For the time is come that judgment must begin at the house of God: and if it first begin at us, what shall the end be of them that obey not the gospel of God? Obeying the gospel is obedience to the Lord!

The Gospel is the death, burial and resurrection of Jesus. Being born again is the death, burial and resurrection of our spirit. To obey the Gospel is to be born again. More information here

The Fear of the Lord: Prov 9:10 The fear of the LORD is the beginning of wisdom: and the knowledge of the holy is understanding. We should have a fearful respect of God... Phil 2:12 Wherefore, my beloved, as ye have always obeyed, not as in my presence only, but now much more in my absence, work out your own salvation with fear and trembling.
If we truly believe, it goes much, much deeper than a shallow belief with no commitment and no real change of life.
Can I believe in "some god" and be saved? No! There is no other name but Jesus, period! Act 4:12 Neither is there salvation in any other: for there is none other name under heaven given among men, whereby we must be saved.
Can I research and think about it, considering that maybe God is real, and be saved? No! If you don't believe, you're calling God a liar! 1 John 5:10 He that believeth on the Son of God hath the witness in himself: he that believeth not God hath made him a liar; because he believeth not the record that God gave of his Son.
If I believe there's a god and I'm a "good person", I'll be saved, right? No! Only Jesus can make us "good". Mark 10:18 And Jesus said unto him, Why callest thou me good? there is none good but one, that is, God.
But if I believe in Jesus and believe what the Bible says, I can continue to lead the life I want and I'll be saved, right? No!
Jesus said: Matt 16:24 Then said Jesus unto his disciples, If any man will come after me, let him deny himself, and take up his cross, and follow me. 25 For whosoever will save his life shall lose it: and whosoever will lose his life for my sake shall find it. 26 For what is a man profited, if he shall gain the whole world, and lose his own soul? or what shall a man give in exchange for his soul? 27 For the Son of man shall come in the glory of his Father with his angels; and then he shall reward every man according to his works. True belief means we will obey Jesus, which means leaving our old life and the things we desire of the world behind, and following Jesus in a new life.
Belief, and understanding God means we have a tremendous respect and fear of Him. It's not what the modern church teaches by twisting scriptures, and ignoring other scriptures. Eccl 12:13 Let us hear the conclusion of the whole matter: Fear God, and keep his commandments: for this is the whole duty of man.
A couple final thoughts:
One thing I wonder a lot is, why do most "Christians" ignore Jesus' final command? Mark 16:15 And he said unto them, Go ye into all the world, and preach the gospel to every creature.

I mean, most don't really do anything other than "go to church" and maybe read their Bible and pray a little.

What we should be doing is telling everyone about Jesus, and obeying this command, as well as the rest of scripture, by moving away from family and friends who do not love Jesus and doing as much evangelism as possible in our circle of life.

We should also be reading the Bible from cover to cover over and over, and studying, absorbing, learning on a daily basis. Walking in the Spirit. Praying without ceasing. Etc. Being ready for the end time means being full of the Spirit and serving God in every sense.

My own testimony concerning this: If you're on my eNewsletter list then you know I have at least one web site (I have many), and I have free mobile apps, published books, and some may have noticed that the link they clicked when they found my site was an ad. This is my obedience to Jesus' command and also part of how I tithe. I reach thousands of people via the internet every month. I also teach Bible studies several times a week (I never thought I could teach but God gave me this gift), and I've been door to door in my neighborhood, etc. Being an evangelist today doesn't necessarily mean going into the jungle in some foreign country. It may just mean doing what you can do to reach as many as possible. I have a job and that's what gives me the ability to support multiple web sites, apps, and pay for ads, etc.

Take a look at the parable of the "bags of gold" in Matthew 25:14-30... this is a parable for believers, and we need to take it to heart!

The point of the parable is that God has given you something very valuable and He expects you to increase what He's given you. Everyone is expected to do what he or she has the ability to do. Some more than others, and He knows what we're each capable of. Do what you can!

Finally: If you're not sure what this means, it would be in your best interest to study it out! Mark 16:16 He that believeth and is baptized shall be saved; but he that believeth not shall be damned. Here's an article with many scriptures to get you started: The importance of baptism
Some additional information for in-depth study can be found on these pages:
What does it mean to live a Christian life?
What does it mean to Love God?