MisInformed!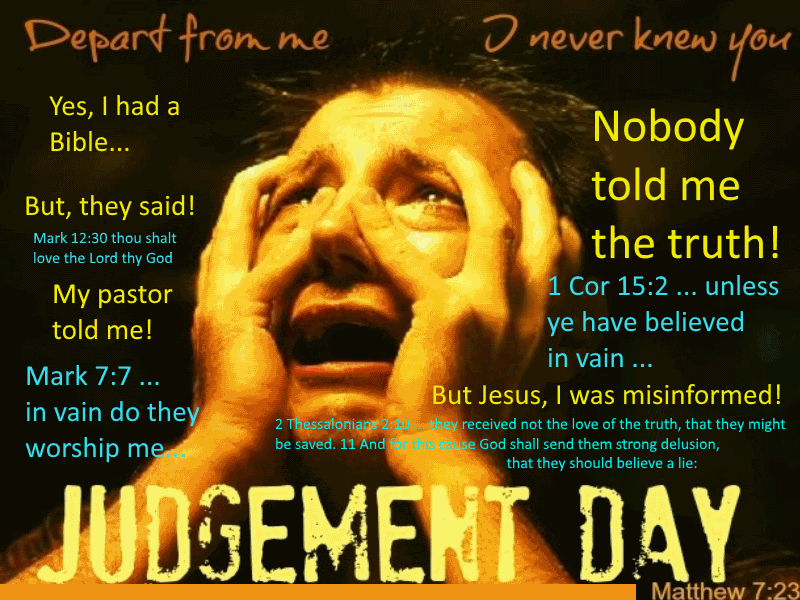 I've had discussions many times concerning doctrines that are considered controversial or debatable.
Sometimes people get very angry and upset when you point out a truth in the Bible that they do not believe.
Sometimes people want to just end the conversation agreeing to disagree... (I do not agree that we can do that)
And, sometimes it's just a matter of people being misinformed and taught incorrectly by preachers or relatives, etc., and they will listen to the Bible when you show them what it says.
The question of salvation comes up most of the time in these discussions.
Is being misinformed going to cause someone to die in their sin?

If they believe in Jesus but just don't understand the truth about some things, they're still saved, right?

I mean, people that go to church and seem to be blessed in their lives, are obviously in the will of God, right?
Let's let the scriptures answer those questions for us. (This is the only way to answer questions!)
The scriptures below show us the following things:
We must love God with our entire being (heart, soul, mind and strength)

Mark 12:29 And Jesus answered him, The first of all the commandments is, Hear, O Israel; The Lord our God is one Lord: 30 And thou shalt love the Lord thy God with all thy heart, and with all thy soul, and with all thy mind, and with all thy strength: this is the first commandment.

If we don't love the truth we will be made to believe the lies of Satan

2 Thessalonians 2:10 And with all deceivableness of unrighteousness in them that perish; because they received not the love of the truth, that they might be saved. 11 And for this cause God shall send them strong delusion, that they should believe a lie:

We must be of one mind (purpose, knowledge, etc)

Phil 2:2 Fulfil ye my joy, that ye be likeminded, having the same love, being of one accord, of one mind. 3 Let nothing be done through strife or vainglory; but in lowliness of mind let each esteem other better than themselves. 4 Look not every man on his own things, but every man also on the things of others. 5 Let this mind be in you, which was also in Christ Jesus: 6 Who, being in the form of God, thought it not robbery to be equal with God: 7 But made himself of no reputation, and took upon him the form of a servant, and was made in the likeness of men: 8 And being found in fashion as a man, he humbled himself, and became obedient unto death, even the death of the cross.

Rom 15:6 That ye may with one mind and one mouth glorify God, even the Father of our Lord Jesus Christ.

2 Cor 13:11 1 Finally, brethren, farewell. Be perfect, be of good comfort, be of one mind, live in peace; and the God of love and peace shall be with you.

Phil 1:27 Only let your conversation be as it becometh the gospel of Christ: that whether I come and see you, or else be absent, I may hear of your affairs, that ye stand fast in one spirit, with one mind striving together for the faith of the gospel

1 Peter 3:8 Finally, be ye all of one mind, having compassion one of another, love as brethren, be pitiful, be courteous

Purge the old leaven and do not keep company with people who profess Christ but do not love Him (shown by their fruits)

Please -=- NOTE -=- I am not focusing on sin here, but focusing on divisiveness, sedition, strife, etc., and how we are to separate ourselves and rebuke and exhort each other and put away from ourselves those who are.

Titus 3:10 Reject a divisive man after the first and second admonition, 11 knowing that such a person is warped and sinning, being self-condemned.

Proverbs 27:5 Open rebuke is better than secret love.

1 Timothy 5:20 Them that sin rebuke before all, that others also may fear.

Titus 3:8 This is a faithful saying, and these things I will that thou affirm constantly, that they which have believed in God might be careful to maintain good works. These things are good and profitable unto men. 9 But avoid foolish questions, and genealogies, and contentions, and strivings about the law; for they are unprofitable and vain.

Titus 1:13 This witness is true. Wherefore rebuke them sharply, that they may be sound in the faith;

Titus 2:15 These things speak, and exhort, and rebuke with all authority. Let no man despise thee.

2 Thess 3:13 But as for you, brethren, do not grow weary in doing good. 14 And if anyone does not obey our word in this epistle, note that person and do not keep company with him, that he may be ashamed. 15 Yet do not count him as an enemy, but admonish him as a brother.

1 Peter 1:17 And if ye call on the Father, who without respect of persons judgeth according to every man's work , pass the time of your sojourning here in fear:

2 Timothy 3:1 This know also, that in the last days perilous times shall come. 2 For men shall be lovers of their own selves, covetous, boasters, proud, blasphemers, disobedient to parents, unthankful, unholy, 3 Without natural affection, trucebreakers, false accusers, incontinent, fierce, despisers of those that are good, 4 Traitors, heady, highminded, lovers of pleasures more than lovers of God; 5 Having a form of godliness, but denying the power thereof: from such turn away.

1 Cor 5:6 Your glorying is not good. Know ye not that a little leaven leaveneth the whole lump? 7 Purge out therefore the old leaven , that ye may be a new lump, as ye are unleavened. For even Christ our passover is sacrificed for us: 8 Therefore let us keep the feast, not with old leaven , neither with the leaven of malice and wickedness; but with the unleavened bread of sincerity and truth. 9 I wrote unto you in an epistle not to company with fornicators: 10 Yet not altogether with the fornicators of this world, or with the covetous, or extortioners, or with idolaters; for then must ye needs go out of the world. 11 But now I have written unto you not to keep company, if any man that is called a brother be a fornicator, or covetous, or an idolater, or a railer, or a drunkard, or an extortioner; with such an one no not to eat. 12 For what have I to do with judging those also who are outside? Do you not judge those who are inside? 13 But those who are outside God judges. Therefore put away from yourselves the evil person.

Please -=- NOTE -=- I am not focusing on sin here, but focusing on divisiveness, sedition, strife, etc., and how we are to separate ourselves and rebuke and exhort each other and put away from ourselves those who are.

The mystery of God is a purposeful thing to blind the mind of those who don't love Him

Mark 4:11 And he said unto them, Unto you it is given to know the mystery of the kingdom of God: but unto them that are without, all these things are done in parables: 12 That seeing they may see, and not perceive; and hearing they may hear, and not understand; lest at any time they should be converted, and their sins should be forgiven them.

2 Cor 4:3 But if our gospel be hid, it is hid to them that are lost: 4 In whom the god of this world hath blinded the minds of them which believe not, lest the light of the glorious gospel of Christ, who is the image of God, should shine unto them.

We must put our love for God above family and friends

Matt 19:29 And every one that hath forsaken houses, or brethren, or sisters, or father, or mother, or wife, or children, or lands, for my name's sake, shall receive an hundredfold, and shall inherit everlasting life.

Luke 14:26 If any man come to me, and hate not his father, and mother, and wife, and children, and brethren, and sisters, yea, and his own life also, he cannot be my disciple. 27 And whosoever doth not bear his cross, and come after me, cannot be my disciple.

This does not literally mean to hate your family, it means to put God first and love Him more than you love your family, and if your family does not love the Lord and are disobedient to Him, we should not make excuses for them, but should put them out of our lives for the Lords sake.

Jesus simply requires us to love Him more than our family! This is the point of His teaching here.

Matt 10:37 He that loveth father or mother more than me is not worthy of me: and he that loveth son or daughter more than me is not worthy of me.

We must study to show ourselves approved

2 Tim 2:15 Study to shew thyself approved unto God, a workman that needeth not to be ashamed, rightly dividing the word of truth. 16 But shun profane and vain babblings: for they will increase unto more ungodliness.

Matt 22:42 Jesus saith unto them, Did ye never read in the scriptures...

He expects us to read and study

Jesus chastises the pharisees for not knowing the time and who He is...

Matt 16:1 The Pharisees also with the Sadducees came, and tempting desired him that he would shew them a sign from heaven. 2 He answered and said unto them, When it is evening, ye say, It will be fair weather: for the sky is red. 3 And in the morning, It will be foul weather to day: for the sky is red and lowring. O ye hypocrites, ye can discern the face of the sky; but can ye not discern the signs of the times?

Luke 12:54 And he said also to the people, When ye see a cloud rise out of the west, straightway ye say, There cometh a shower; and so it is. 55 And when ye see the south wind blow, ye say, There will be heat; and it cometh to pass. 56 Ye hypocrites , ye can discern the face of the sky and of the earth; but how is it that ye do not discern this time?

We must believe the Word of God in it's entirety and use it for correction and instruction

2 Tim 3:16 All scripture is given by inspiration of God, and is profitable for doctrine, for reproof, for correction, for instruction in righteousness
We can't trust our own heart or what "feels right" to us, but instead it's fearing God and seeking to know Him that will give us wisdom and understanding.
Prov 9:10 The fear of the LORD is the beginning of wisdom: and the knowledge of the holy is understanding.
Prov 16:25 There is a way that seemeth right unto a man, but the end thereof are the ways of death.
I mean, we have to love God more than anything, put Him first, love His Truth, seek Him and obey Him. That is what the Bible teaches us!
So if we don't do that, and especially if we argue about Biblical truth just because we believe a certain way without actually studying the scriptures for correction and instruction, then we don't love God!
In my personal experience, I have had people argue and get angry with me because I have pointed out that Jesus requires obedience! Just that simple truth! Those people don't love Jesus, they just want Him to save them from hell, but they don't care to follow Him and put Him first, they want to do what they want to do and use Jesus as a stepping stone to heaven without true repentance.
These are they that worship Jesus in vain!
Mark 7:6 He answered and said unto them, Well hath Esaias prophesied of you hypocrites, as it is written, This people honoureth me with their lips, but their heart is far from me. 7 Howbeit in vain do they worship me teaching for doctrines the commandments of men. 8 For laying aside the commandment of God, ye hold the tradition of men...
Just as the Pharisees who professed to love God were worshipping God in vain, so are these people in the "church" today worshipping God in vain!
1 Cor 15:1 Moreover, brethren, I declare unto you the gospel which I preached unto you, which also ye have received, and wherein ye stand; 2 By which also ye are saved, if ye keep in memory what I preached unto you, unless ye have believed in vain.
Now, that is going to offend many people, I'm sure. Most churches teach that if you believe and worship Jesus you are saved and that's that. Jesus says we can worship Him in vain, so just believing He exists and worshipping Him outwardly does not save your soul, it just makes you look good to other people. We have to love God with all our heart, soul, mind and strength! We have to be consumed with our love for Him!
In fact, I know that many people who have not already deleted this email or clicked the back button to leave this page, will do so now... Because they don't want to hear the truth!
Jesus said, "Matt 7:20 Wherefore by their fruits ye shall know them."
If someone does love God above all things it's apparent in their life. Their fruits give them away.
They are eager to study His word.

They seek Him in every thing, not their own.

They hate sin.

They desire His gifts.

They obey Him and study His word to find the things that He loves and the things that he hates.

They hang out with other people who are Godly and love God with all their heart.
If someone does NOT love God above all things it's apparent in their life. Their fruits give them away.
They treat Him like a gold-digger treats their rich husband! Shower me with presents and give me things I want!

They make excuses to not study His word and be around others who love the Lord.

They hang out with worldly people instead of Godly people.

They argue about things like obedience and putting God before family and friends.

They try to find ways to make people who love God look bad so they can justify their own sin and disobedience.

They love to point fingers in an ungodly fashion.
If we say we love God and have been misled about something and somebody tells us the truth but we don't listen and allow the Word to correct us because we don't want to rock the boat or upset our church fellowship buddies, or even if we do listen and understand but don't say anything to anyone because of that, then we don't really love God, we love our buddies...
We must love God more than fellows and friends.
We must have a love for the truth that overshadows everything else.
God is adamant about His truth. Do we really think it doesn't matter if we believe and are comfortable with a false doctrine (a lie) no matter how trivial?
If someone says something different than what you believe or have been taught, do you search the scriptures and prove it out with the Word of God, or do you just scoff and argue? Do you just believe what the pastor teaches and go along with the people in your church because you don't want to "rock the boat"? I believe this is what separates the Truth seekers from the excuse seekers. It separates those who love God from those who love their life.
John 12:25 He that loveth his life shall lose it; and he that hateth his life in this world shall keep it unto life eternal.
I wonder how many people in churches understand a truth that goes against what the church teaches but never say anything because they're afraid their church buddies will look at them differently and maybe even shun them or laugh and scoff at them?
I've had many people tell me they won't say anything they've learned during discussions I've had with them because they don't want to upset their church fellowship.
Most of the time they say, "It's not a salvation issue", so why rock the boat when it doesn't matter?
The whole point of this article is to point out that that attitude is wrong!
If someone doesn't love the truth enough to cause them change their mind when it's shown to them in the scriptures, then it is a salvation issue!
So if someone goes to church and they appear to be blessed by God and living a wonderful life, then they must be saved, right?
No! Just because people seem to be "blessed" is no reason to believe they love God... it rains and shines on the just and unjust alike...
Matt 5:45 ... for he maketh his sun to rise on the evil and on the good, and sendeth rain on the just and on the unjust.
Good things happen to the evil just as much as the good. Judging by appearances and how well someone's life is, goes completely against scripture!
There are many, many people who do not love God or even profess to believe in Him that believe in doing good and are very compassionate, caring people who succeed in life and appear to be very "blessed". Does this mean God is smiling on them and blessing them?
Absolutely not.
If someone goes to church, then at some point in their life they were called by God.
But that does not mean they are chosen...
Matt 22:14 For many are called, but few are chosen.
People who are called might go to church... but they are not necessarily chosen.
The mainstream church teaches that all who profess Christ are chosen, but Jesus said differently!
What amazes me, is how few, few is. The 2 billion "Christians" in the world who profess to know Jesus are not the few. It's only a few of those who really love God. It's only those who really love God and are obedient to Him that are chosen.
Many will think they know Jesus in that day...
Matt 7:21 Not every one that saith unto me, Lord, Lord, shall enter into the kingdom of heaven; but he that doeth the will of my Father which is in heaven. 22 Many will say to me in that day , Lord, Lord, have we not prophesied in thy name? and in thy name have cast out devils? and in thy name done many wonderful works? 23 And then will I profess unto them, I never knew you: depart from me, ye that work iniquity.
What a horrifying thing to hear from Jesus on the day of judgment, "I never knew you, depart from me". We should be terrified of that!
This is what "fearing the Lord" means! It's just the beginning of wisdom!
Prov 9:10 The fear of the LORD is the beginning of wisdom: and the knowledge of the holy is understanding.
And many who think they know Jesus, and have done many wonderful works, will hear those words!
The parable of the sower and the seeds shows us how many people hear the word of God and gladly rejoice in Him, but then fall away to their lusts or persecutions and the word is choked out... (Matt 13, Mark 4, Luke 8-9)
These people might stay in church, thinking that will save them, but they will end up hearing those words from Jesus...
But everyone believes... (insert mainstream Churchianity doctrine)... are they all wrong?
For the Scriptures to mesh and comply completely, totally, and exactly with each other requires a very narrow, restrictive and precise interpretation that produces an exact truth that "only a few" understand and comply with.
Matt 7:13 Enter ye in at the strait gate: for wide is the gate, and broad is the way, that leadeth to destruction, and many there be which go in thereat: 14 Because strait is the gate, and narrow is the way, which leadeth unto life, and few there be that find it.
The sinful self-will of man desires a wide, broad, vague, ambiguous and confusing interpretation that does not focus on the sin in his life.
2 Tim 4:3 For the time will come when they will not endure sound doctrine; but after their own lusts shall they heap to themselves teachers, having itching ears; 4 And they shall turn away their ears from the truth, and shall be turned unto fables.
If you're in mainstream Christianity; if you believe what most people believe, I would seriously start reading the bible for yourself and asking God to show you his truth!
Take a look at this warning from Jesus to the church that existed in John's time. This is to believers, not unbelievers!
Rev 3:14 And unto the angel of the church of the Laodiceans write; These things saith the Amen, the faithful and true witness, the beginning of the creation of God; 15 I know thy works, that thou art neither cold nor hot: I would thou wert cold or hot. 16 So then because thou art lukewarm, and neither cold nor hot, I will spue thee out of my mouth . 17 Because thou sayest, I am rich, and increased with goods, and have need of nothing; and knowest not that thou art wretched, and miserable, and poor, and blind, and naked: 18 I counsel thee to buy of me gold tried in the fire, that thou mayest be rich; and white raiment, that thou mayest be clothed, and that the shame of thy nakedness do not appear; and anoint thine eyes with eyesalve, that thou mayest see. 19 As many as I love, I rebuke and chasten: be zealous therefore, and repent.
It's soooo important to understand this! God is not to be toyed with as so many church goers seem to think they can! This warning is a very great lesson that we need to acknowledge and pay attention to!
I say again, if you're in mainstream Churchianity, and lukewarm in your love and service for God; if you "go to church" and that's the extent of your ministry and what you "do for God", then you need to put a magnifying glass to the scriptures and seriously start paying attention to the many, many warnings and exactly what Jesus expects of us!
Read the Bags of Gold parable in Matthew 25:14-30... this is a parable for believers, and we need to take it to heart!
How should a Christian live his or her life?
Watch my Salvation video at the link below... I talk a lot about what salvation really is!
What must I do to be saved? What is salvation?
There's a lot more that could be said, but I go into much more detail on the pages I've linked in this eNewsletter. Please open your Bible and study it and search the scriptures!
Remember we must Love God with All Our Heart!
Remember we must Love the Truth, or we will certainly be deceived!
Remember we must put God above all else!
Remember we must Study and Search the Scriptures!
Remember we must Not Trust Our Own Heart, or what "feels right" to us, or our pastor or our friends and family, we must believe the Bible !
Remember we must Have Faith and Do Not Waver!
If you waver in your faith you will receive NOTHING:
James 1:6 But let him ask in faith, nothing wavering. For he that wavereth is like a wave of the sea driven with the wind and tossed. 7 For let not that man think that he shall receive any thing of the Lord.
Do not pray for things to feed your flesh and your lusts!
If you pray amiss you will receive NOTHING:
James 4:3 Ye ask, and receive not, because ye ask amiss, that ye may consume it upon your lusts.
Don't expect God to answer your prayers when you only pray when it's convenient or you need something!
Sinners prayers are not heard by God, but He hears those who do His will:

John 9:31 Now we know that God heareth not sinners: but if any man be a worshipper of God, and doeth his will, him he heareth.

-=- This does not include the prayer of repentance, but anyone who does not love God cannot be expected to have their prayers answered!
1 Peter 3:12 For the eyes of the Lord are over the righteous, and his ears are open unto their prayers: but the face of the Lord is against them that do evil.
Pro 15:29 The LORD is far from the wicked: but he heareth the prayer of the righteous.
LOVE GOD MORE THAN YOUR FRIENDS, FAMILY, CHURCH FELLOWSHIP, ETC!